So I finally got around to populating this site with new products. 🙂 Been diligently updating on Instagram and if you go for a quick check, you'll see that I decided to expand my product line from just postcards and stickers to note cards, notebooks and even gift wrappers early this year. It was a big decison because selling my art was really just a hobby in the beginning. I didn't want to shell out money for producing and stocking inventory… but I took a leap, just to test the waters, and now I guess you could say I'm in pretty deep. The initial investment has been rewarding and it has even led to collaborations I probably wouldn't even land if I didn't put my art out there. Here they are, so far: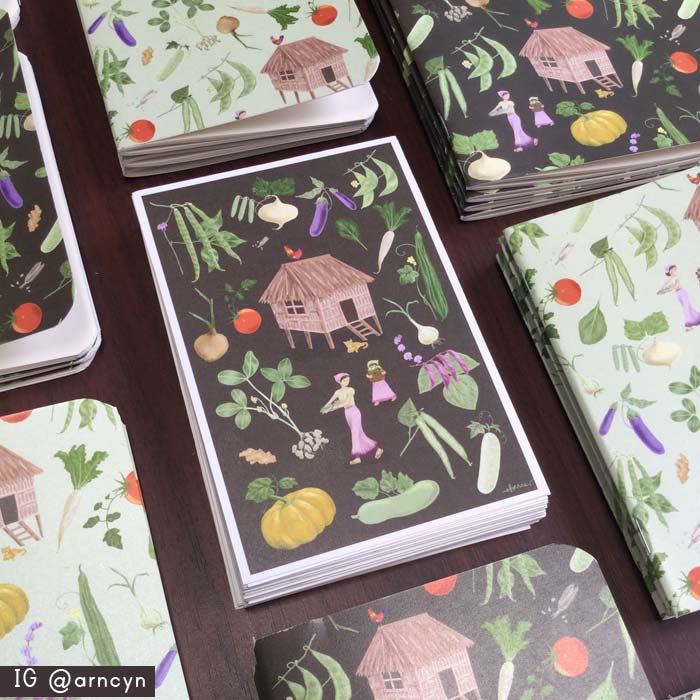 1. "Bahay Kubo" postcards and notebooks for Go Lokal shops at DTI's Buendia Showroom and NAIA Terminal 3. Never would have guessed that I could have my work accessible to tourists in the international airport, no less! Such an awesome opportunity and I have Roma of Common Room to thank since the opportunity was offered to 16 artists from the store. Lucky to be among them. 🙂

2. The Filed! "Garden Bloom" Pen Capsule. Was thrilled to have been given the chance to design for Filed!'s best-selling pen capsule because I use the product myself and love it! The theme was "Garden Bloom" so I drew a Philippine Trogon along with local garden staples kalachuchi, sampaguita, and a wax flower. The drawings were converted to embroidered illustrations which decorate the surface of the pencap. Such a fun project!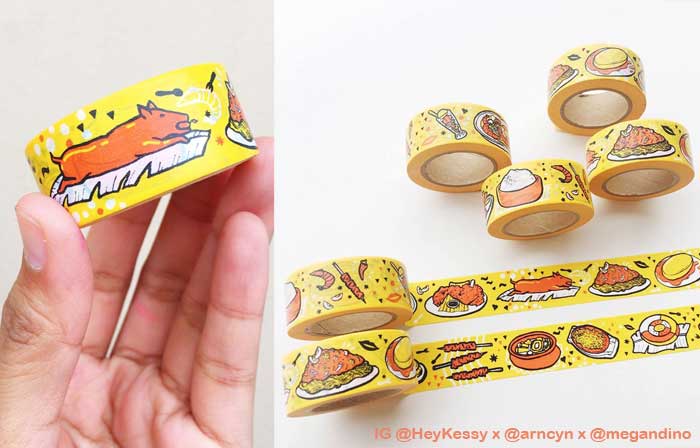 3. A Philippine Fiesta Food-themed Washi Tape for HeyKessy. This project was a collab with a fellow illustrator and friend Megan Dino. Megan and I met at BGC Art Mart in 2015 (the first time I joined) and we've been friends since so it was a treat when Mansy of Hey Kessy tapped us to make a washi tape featuring hand-drawn illustrations of food we love to eat at Pinoy fiestas. Warning: it may make you hungry! :p
What's next? As of this writing I have just formalized an agreement with a forest conservation group (!) and I can't wait to work on the many projects we've lined up for the coming months. 🙂
And here are some morebrand collabs from the past three years.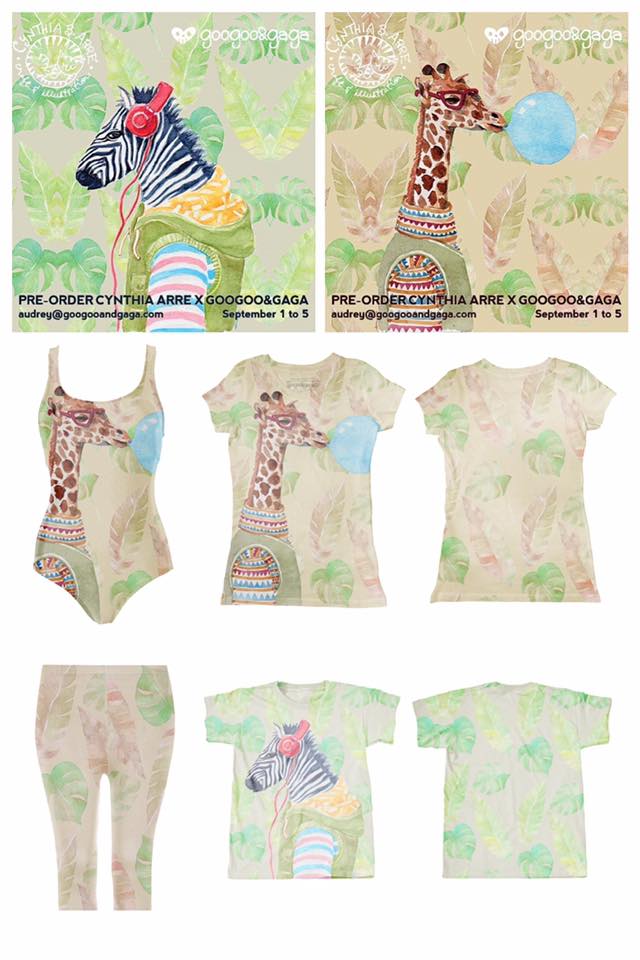 4. Giraffe & Zebra Designs for Googoo & Gaga. I've always loved AJ Dimarucot's hip designs for his & wife Audrey's brand of edgy kiddie clothing Googoo&Gaga so when they asked me to collaborate, it was an instant yes. I drew a Giraffe and Zebra in trendy clothing in watercolor and also made a tropical safari background to go with them.
5. Phone Covers for The Diff. My animal postcard designs were turned into iPhone & Samsung covers in 2015 for the now defunct brand.
*If you would like me to design for your brand, just send me a message. 🙂